Welcome to the Disney Villain Roleplay Wiki!
This is a wiki of roleplay of the franchise Disney Villains. A chatroom was added, so you can choose your roles and roleplay when I'm on. Before getting a role, please read The Rules. After getting a role, read The Rules about Roles! Also, visit our Q&A page!
Meet our sister roleplay wiki! (x)
If you want a role then go to the Available Category or check the roles below. If we didn't add a villain you want here, please contact an admin to add one.
User Rights are here.                                       
| | |
| --- | --- |
| | We have a number of 2 active users on this wiki. We have 86 articles as of September 25, 2018. |
Roles
Cherrypop888 as The Evil Queen and Evil Mickey   
Disneyfan97 as Captain Hook and Heinz Doofenshmirtz
EternallyFrozen13 as Hans and The Wicked Witch of the West/Zelena
Dlrgirl75 as Shego and Mother Gothel
Valentin girl as Hades and Panic
MsMidnightFrost as Elsa, John Silver, and Yzma
Poofy Pink as The Queen of Hearts
Edie Britt Fan7 as Queen Narissa
James 1234 as Gaston
Hungergame0616 as Lady Tremaine
Nobody as Anastasia
Winter Fairy as Jafar and The Wicked Witch of the West/Theodora
Kobob23 as Pain, Pete, Turbo, King Pug and Little Hans
Scootaloo lover23 as Zira and Sour bill
Heather11203333 as Taffyta Muttonfudge
Flutterbutter as himself
Hellfire gamer 19 as Sylvester Shyster
ShootingStar75 as The Duke of Weselton
Nobody as Helga Sinclair
Brer Bear888 as Br'er Bear, Sparky, Ripslinger, Grim Gloom and Supreme Commander
Nobody as Yokai
Pixar Roles
Nobody as Stinky Pete
Nobody as Charles
James 1234 as Sid
Clubs
Queen Club <-- Owned by The Evil Queen
The Follow My Rules Club <-- Owned by Mickey
King/Prince Club <-- Owned by Mordu
The Hans Club <-- Owned by Hans
The house of Villains <--- Owned by Hades
The EVIL Club <--- Owned by Br'er Bear
Roleplay!
Go roleplay on the threads, blogs, or chat now!
Latest activity
Marnie Dalby chooses Kulturaplus Confederation
created by A FANDOM user 3 days ago

| | |
| --- | --- |
| New page: | Hello everyone, it's Marnie Dalby here! I work as a professional an essay writer and have created this content with the intent of changing your life... |
| Summary: | Marnie Dalby chooses Kulturaplus Confederation |
"

All our dreams can come true, if we have the courage to pursue them.

"

—Walt Disney
Hallo! I'm Emily.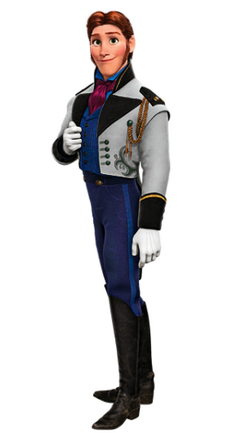 Prince Hans Westerguard of the Southern Isles is the main antagonist of the newest Disney movie, Frozen. He plans to take over the throne of Arendelle. Not much is known about this Prince, but he's the youngest of his 12 brothers and was neglected, because of this and knowing, that he will never rule the throne of Isles unless he marries a royal. When Arendelle is set to have a coronation, he jumps at the opportunity.