Elsa


General Information
Film(s)
Frozen

Frozen Fever

Show(s)
Once upon a Time
Biographical Information
Full Name
Queen Elsa of Arendelle
Other Names
The Snow Queen
Gender
Female
Age
21
Home
Arendelle
Occupation
Princess (formerly)
Queen

Queen of Arendelle

Physical Appearance
Species
Human
Hair
Platinum Blonde
Eyes
Blue
Relationships
Family
The King of Arendelle (father; deceased)
The Queen of Arendelle (mother; deceased)
Anna (younger sister)
Melissa (daughter)
Friends
Olaf
Marshmallow
Kristoff
Sven
Minions
The royal guards, Marshmallow
Enemies
Hans
The Duke of Weselton
Personality
Type
Good (movie)

Bad (in role plays)

Other Information
Likes
Her family, chocolate, having fun with her powers, bringing joy to Anna and her kingdom, having fun with Anna, acceptance, freedom, peace, cleanliness, geometry, studying, tea, open gates, her powers (currently)
Dislikes
Her powers (formerly), fear, being treated as a monster, being hated, being mocked, not being with Anna, loneliness, her magic doing harm to others, conflicting moments with her sister, the idea of Anna marrying someone she hardly even knows, Arendelle in peril
Powers & Abilities
Magical control over coldness, ice, frost and snow
"

Never underestimate the power of ice and snow.

"

—Evil Elsa in a scene from an early development of Frozen
Elsa is a character from Frozen. She is the roleplay character of MsMidnightFrost. 
About Her
Queen Elsa of Arendelle is the evil snow queen (in this wiki) and is based on the Snow Queen. She is the older sister of Anna and doesn't want her to get hurt. Her faithful henchman is Olaf, a snowman, as well as Marshmallow, another snowman, but much bigger. Elsa runs away to be free and use her powers without hurting anyone.
Personality
As the queen, Elsa is calm, charming, protective and is a good girl. But on the other side she is an evil, manipulative girl. Her powers of ice and snow are based on her emotions.
Relationships
Anna:

Elsa's younger sister.

Kristoff:

Anna's boyfriend.

Olaf:

A funny snowman. He is a friend of Anna, Kristoff, Sven, and Elsa.

Sven:

A reindeer and the best buddy of Kristoff.

Hans:

Elsa's enemy.
Melissa:
Elsa's fan-made daughter.
Quotes
"Enough, Anna."
"I said, ENOUGH!"
"Please, just stay away from me! Stay away!"
(Repeated lines) "Conceal, don't feel, don't let it show."
(Singing) "Let the storm rage on! The cold never bothered me, anyway."
(Singing) "No right, no wrong, no rules for me. I'm free."
(Singing) "My powers flurries through the air onto the ground."
"I never knew what I was capable of."
"How?! What power do you have to stop this winter? To stop me?!"
Stay away!"
(Dismayed) "Oh, no... What have I done? (Hans enters the dungeon) Why did you bring me here?"
Pictures
Videos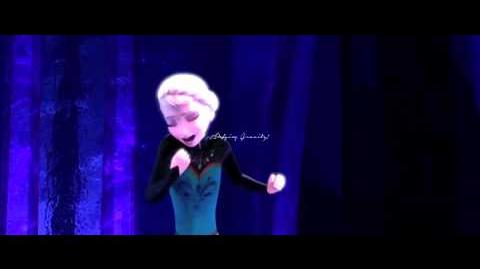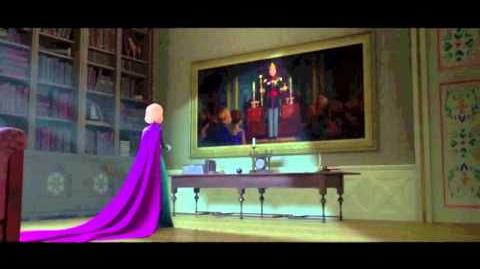 Ad blocker interference detected!
Wikia is a free-to-use site that makes money from advertising. We have a modified experience for viewers using ad blockers

Wikia is not accessible if you've made further modifications. Remove the custom ad blocker rule(s) and the page will load as expected.