Calude Frollo


General Information
Film(s)
The Hunchback of Notre Dame
Biographical Information
Other Names
Judge Claude Frollo (or just Frollo)

Master (referred to by Quasimodo) Minister Frollo (referred to by a guard during) Sir (referred to by Phoebus)

Gender
Male
Home
Possibly the Palace of Justice

Paris, France

Occupation
Judge

Minister of Justice

Physical Appearance
Species
Human
Hair
Grey
Eyes
Silver
Relationships
Family
Quasimodo (ex-foster son)
Friends
Phoebus (formerly), Brutish and Oafish Guard
Pet(s)
Snowball (horse)
Minions
Quasimodo (formerly), Phoebus (formerly), his guards (formerly), Brutish and Oafish Guard
Enemies
Esmeralda, Quasimodo, Phoebus, Clopin, Djali, Archdeacon, Quasimodo's mother, Quasimodo's father
Personality
Type
Bad
Other Information
Likes
Snowball, "serving God", fireplaces, religion, "justice", destroying gypsies, people judging others for their looks, punishing Quasimodo.the idea of Esmeralda being his.
Dislikes
Gypsies, Sanctuary, Satan, the Archdeacon's authority, licentious sinners, Quasimodo, the Feast of Fools, Quasimodo asking to go to the Feast of Fools, Quasimodo's disobedience, witchcraft, deformities
Powers & Abilities
Political power, intellect, manipulation
"

And He shall smite the wicked and plunge them into the fiery pit!

"

—Frollo
Frollo is played by Hatter Who?.
Personality
Frollo is very manipulative, conflicted, mysterious, powerful, racist, scheming, vindictive, self-righteous, power-hungry, corrupt, oppressive, tyrannical, despotic, tragic, rude, dark, shadowy, mean-spirited, uncaring, cunning, wicked, prejudiced, judgmental, intolerant, vain, vicious, dangerous, angry, short-tempered, abusive, impulsive, murderous, loathsome, sinister, diabolical, genocidal, violent, hateful, wrathful, menacing, ruthless, intimidating, vengeful, and aggressive. He dislikes the gypsies of France and wants to get rid of them.
People
Esmeralda- the gypsy girl, that Frollo hates.
Quasimodo- is the hunch back man.
Phoebus- is the husband of Esmeralda.
Appearance
Frollo has gray hair, pale skin, and gray eyes. He wears a robe with purple trim, black boots, 3 jeweled rings, and a chaperon hat.
Quotes
Remember, Quasimodo, that this is your sanctuary.
And He shall smite the wicked and plunge them into the fiery pit!
I should have known you'd risk your life to save that gypsy witch, just as your own mother died trying to save you.
Videos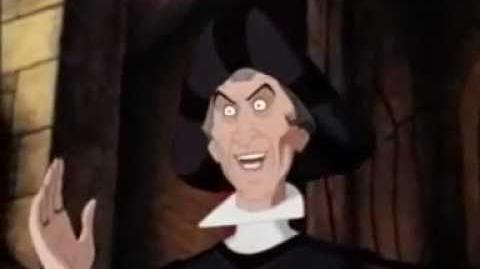 Ad blocker interference detected!
Wikia is a free-to-use site that makes money from advertising. We have a modified experience for viewers using ad blockers

Wikia is not accessible if you've made further modifications. Remove the custom ad blocker rule(s) and the page will load as expected.